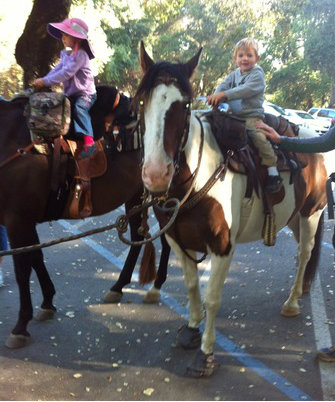 My friend, Sydney, just attended a Feldenkrais Method conference in San Mateo last week.  It was fun to see this longtime friend, and neat to hear a little about Feldenkrais.  The Feldenkrais Method is a relatively new field of thought and practice that could have some great implications for physical therapy, athletic training, and physio-emotional well being.  Sydney, a masseuse, originally saw a need for a new way to move, when she had some pain after practicing massage a lot, and similarly after athletics.  She needed to understand her body and how to better move, to avoid injury.  This required some hands-on training about how her body was built, and how she could and wanted to move.  If you're interested in learning more, see http://www.feldenkrais.com/.
How better to know how we can and want to move, than to get moving! 
Theresa had a great breakfast and hike last Sunday in Woodside.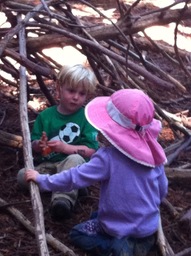 The kids enjoyed hiking, running, fort building (photo at right), and more.  And to top it all off, while waiting near the trailhead, they were offered horse rides across the parking lot (photo above).  That's a new way to move!
Lisa and I have resumed our rock climbing on Fridays, starting a bit after 3:30 in Sunnyvale.  Shira (3), Samuel (5), and Max (6) are pros at harnessing up, communicating during climbing, climbing up, and belaying down.  All three are even starting to master their knots for tying into the rope. Between climbs of the kids, I traversed a climbing wall barefoot, my muscles slowly remembering what I did pre-kids at least three times a week.  At the end of climbing, we stepped outside to the slack line, and tried our balance, "tight-rope walking."  The kids made it across with two hands from mom, then one hand, then a finger (see Lisa and Samuel trying, at right).  A few made it a step with no support.  I'm up to four steps, myself, and will aim for five next week.  That's a new way to move, too.
This week on Thursday, Rebecca, Julia, and I enjoyed a toddler trek/backpacking bambinos hike with our kids at Coal Mine Ridge, my very favorite place to hike and trail run, in Portola Valley.  After a few minutes, the kids experienced first-hand why this is a superb place for trail running.  With a trail so narrow, twisting and turning, there are new sights, sounds, and smells (lots of bay this time  of year) around every corner.  With Holly and Audrey racing each other, or one running after the other up to me, to be scooped and turned in the air, the girls were loving moving!  (Photo at right of some  of our attendees taking a break from the hike and checking out a silkworm.)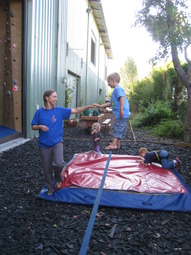 Today at Max's Tae Kwon Do lesson, when Holly could sit still no longer, we wondered outside to a grassy hill next  the school.  After a few jumps up and down the hill, we both laid in the grass and looked up at the walnut tree and bright blue sky.  Being still amongst the entropy of nature was a pleasant break in our busy morning.  Laying there, we could feel the breeze moving the leaves on the tree, the grass flexing beneath us, and the hum of the world around, helping us gain perspective about out place in the world around us.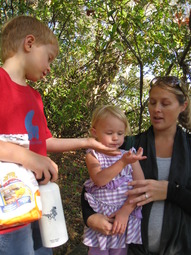 Even while trying to be still, we were clearly part of the world in motion.
As the summer season comes to a close, don't forget to embrace the warm weather and not yet muddy trails, and go on a hike, run, ride, or out for a swim.  You might even climb a hill and do some stretching – how about yoga in nature.  You can swing like a willow, shake like a cottonwood, or stretch to the sky like a redwood.
Get moving!
-Debbie (Founder and President), Holly (2), Max (6), and Andrew