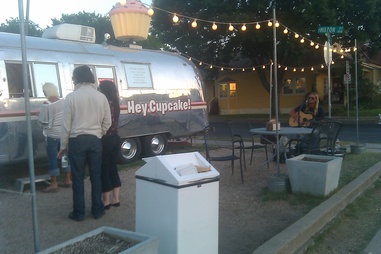 We're in Austin on a mini-vacation this week, upon the request of my husband's work to check it out as a possible moving destination.  We've never been asked by an employer to move somewhere, so it's put us in an interesting situation to determine what we are really looking for in a community, home, and environment.
Just like many of you, we are nature nuts.  We like to get outside all of the time to exercise, explore nature, and share our experience with others.  Based on this passion, Stroller Hikes originated five years ago.
We have really enjoyed Austin for the food, culture, and super nice people here.  (Kudos to the uber-nice fire fighters that invited us to check out the station and engine just as we were walking by.  See photo at left.)  It's cool to be able to support locally owned businesses, tip some amazing street musicians, and eat tacos and cupcakes from Airstream trailer restaurants that are set up in gravel parking lots (photo above).  The bats and epiphytes here are awesome!  The counterculture is so prevalent here that it doesn't feel contrary to anything, although I am reminded by my Texas friends that Austin itself is quite contrary to the rest of Texas, so this place is sort of a Mecca to all things unique, grassroots, and artistic, and all the novelty is genuine, even if it doesn't feel novel in my brief exposure to it.
We met with a realtor to talk shop about how people live, commute, and converge.  Right away I pointed out that we were a family that hiked 4-6 hours per week and loved to do it with other friends with little ones.  He assured us we could do this in Austin – it might just have to be in the morning before the heat.  Double checking this fact with a friend at dinner, he cited several trails that were fun, and equally interesting lakes and waterfalls, but assured me such ventures were pre-"high noon."  Camping though – this was out.  "I love camping," he enthusiastically said.  "But I would never camp in Texas – too hot, way too buggy, and too many red ants."  (I was bitten by a red ant yesterday, but I've seen some amazing bugs and don't think it's been too hot…)
This burst our hypothetical bubble a bit (we're far from convinced that moving would be a good idea – we are, however, enjoying the process of analyzing our current living situation and thinking about the possibilities).  Stroller Hikes has become such a rich part of our lives.  My kids relax on hikes, laugh and play with hiking buddies, and really enjoy being in nature.  We love how a hike can start a day to focus us, come after a long day at work and school to rejuvenate us, and be done on the fly when we're looking for an excuse to get outside and spend time together.
Could Stroller Hikes be replicated elsewhere if we moved?  Those of you who have moved have asked a similar question – can you develop community, build a home, and find an environment that fits your family, when you move?
I've heard from several parents over the years that have asked about establishing Stroller Hikes abroad, and know of at least one Stroller Hikes parent who has (MamaHikes.com), so I know it can be done.  Finding buddies to hang out with or share gear with (Roonga.com)* certainly is not unique to the Stroller Hikes experience, but I treasure having rich conversations and experiences with so many Stroller Hikes families, and value greatly the community I have helped create, the home I have built, and the environment that is so unique to the Bay Area.  Thanks Stroller Hikes!
-Debbie, little Max, and wee Holly

* Roonga.com is an online resource for sharing gear (as well as selling, buying, and giving away) within a private group, so you can avoid the anxiety-provoking interface with strangers from other online resources that serve the masses.  Stroller Hikes is helping Beta Test Roonga with our Gear On the Go Baby Transportation Gear Lending Library (need a stroller, backpack, or carrier – let admin@strollerhikes.com know or use your free Roonga account).  Want a Roonga account?  E-mail admin@strollerhikes.com today.