Tis the season for squash, goblins, and changing leaves, an exciting time of year for finding new places to venture to, or visiting some you only visit once a year.  Last year, Audrey hosted Stroller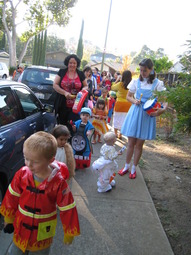 Hikes' first ever Harvest and Halloween Festivus, a wonderful occasion of bobbing for apples, decorating pumpkins, dressing up, and coming together.  I have fond memories of this event, largely because Audrey (dressed as Dorothy at right in our parade) took it on almost entirely on her own, and put so much effort into food, decorations, and activity planning, but also because this is such a busy time of year for many of us.
Some of our forefathers would have been busy harvesting crops and storing them – drying, pickling, canning, and more – in anticipation of colder, wetter weather and shorter days.  At the same time, our foremothers were mending and preparing new cold weather clothes – waterproof and warm – and perhaps even some costumes to celebrate Halloween.   As a little girl, I'd watch the hay field across the street burn, after the bales had been harvested, and before they could plow the old growth (and now destroyed bugs, fungus, viroids, and bacteria) under before the first really heavy rains of winter would make plowing impossible.  Our kitchen cabinets would be full by then of canned tomatoes, applesauce, and jams, including the last jam ever to be made, appropriately called "traffic jam," as it was a medley of whatever "pure" jams had been made that weekend, when each pot was down to the last half cup (imagine pear, strawberry, and other fruits intertwined – lovely!).  My mom would have the sewing machine out and my dad would be helping to cut holes in and paint cardboard, and many a costume would be designed and made – robot, wolf (an intricate costume with hundreds of loops of grey yarn for fur, also used in a "Little Red Riding Hood" play one year), princess (which my sister wore proudly with her long golden hair – she was Cinderella in the 1st grade play), purple velvet cat (my favorite costume for years), and more.
Then there are hikes to see color.  Particularly in the Santa Cruz Mountains, where mist will roll in and out at the beginning and end of most fall and winter days, there is new dark green moss to pet,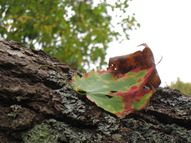 sitting tall and ready with capsules to burst in a first step of moss reproduction, at the first sign of more moisture.  Buckeyes have already lost their leaves this year – they lose them in the heat of summer – and now other trees are following suit.  Little yellow willow leaves, brown bays and eucalyptus, and flamboyant maples begin to litter the trails, along with crispy brown oak leaves.  Kick around under the oak trees, and you may also find the brown and black gall balls they produce, if they are not still hanging in the trees like Christmas ornaments.
So in honor of this season, we encourage you to get out to celebrate harvest, haunt, and hike.  You may not have the time to can your own food or sew your own costumes, but with the advent of the public pumpkin patch, you can harvest, haunt, and hike all in one, particularly if you visit one of the more sprawling natural places that celebrates this season.  Some suggestions are below, but this list is certainly not exhaustive. 
Visit Uesugi Farms in Gilroy.  This was recommended to us two years ago, and was well worth the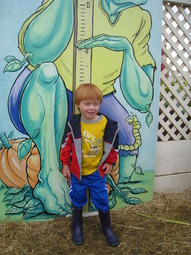 drive, particularly because you avoid the terrible traffic that accumulates at Half Moon Bay for their pumpkin patches.  Half Moon Bay Pumpkin Patches are also quite nice, but at Uesugi, there will be little or no waiting in line.  Uesugi has a train, fun decorations, a huge pumpkin patch, and plenty of other harvest or Halloween wares to check out, including honey sticks that I gave my kids after we had a successful venture.  They also have an entertainment stage and food, as long as they are busy enough (these were closed when we visited, but we still had a great time, and I got what I wanted – some nice photos with the kids and beautiful pumpkins that cooked up nicely for crunchy seeds and pie). http://www.uesugifarms.com/
If you want to celebrate the haunt more than the harvest, come out for the longstanding tradition on California Avenue in Palo Alto – a trick and treat at local businesses, parade, and activities, sponsored largely by Blossom Birth, a wonderful nonprofit located on this avenue.  For more information, see http://www.blossombirth.org or our events calendar at http://www.strollerhikes.com/Events.php.
If you want to celebrate small-home harvests, Sabine turned me on to Tour de Coop, a self-guided bicycle tour on October 27th of Los Altos homes that have chicken coops and more, and want to show the world how it's done!  http://tourdecoop.org/
If you visited Day on the Bay last weekend (where Val, Rebecca, and I had a blast tattooing some 450 people with frogs, butterflies, ladybugs, beetles, snakes, and the occasional rock and roll tattoo), you already have your pumpkins.  So grab your sneakers or hiking boots and hit the trails.  Here are some recommended places for fall color:
Alum Rock: Check out this historic area in San Jose that even locals don't know about.  It's huge and can accommodate all sorts of travel – even teaching kids to ride a bike – and includes an awesome playground and Youth Science Institute at its center. http://www.strollerhikes.com/Hikes/AlumRock/AlumRock.php
Huddart County Park: Check out this huge gem that runs from Skyline Boulevard to a valley in Woodside.  Visit the country store in Woodside to grab some picnic goodies before heading up, then hike on a small single track trail, roll around the campground, or through the hills, or just hang out in one of the meadows for your picnic. http://www.strollerhikes.com/Hikes/Huddart/Huddart.php
Sunnyvale Baylands: Baylands has beautiful aspen trees (or perhaps alder or cottonwood – similar species) along a corridor, so you can hear the leaves quake as the wind rushes through, then check out their yellow, tan, and brown colors as they fall.  Other broad-leafed trees are scattered amongst ground squirrel and owl burrows, so you may be able to appreciate some color changes while you watch little heads pop up and down.  If the afternoon breeze gets going, this is a great place to fly a kite. http://www.strollerhikes.com/Hikes/BaylandsPark/BaylandsPark.php
Wilder Ranch: Santa Cruz has been gorgeous lately – even when the clouds sink in Silicon Valley, it's clear and warm at the coast.  If you cannot join Melanie, Lukas, and Emilie to watch the dolphins on her Friday 10 AM Seabright Beach walks (picture of Lukas at top left of this newsletter at Seabright), you can plan your own trip on the Northern edge of Santa Cruz and ride bikes, hike, or stroller hike into the historic farm area, then into the foothills, where there are plenty of groves of broadleaved trees whose colors are beginning to change. http://www.strollerhikes.com/Hikes/Wilder/Wilder.php
Enjoy the pre-mud season!
Debbie (Founder and President), Max (6), Holly (2), and Andrew