When I was in high school French, we studied several of the major European Art Movements.  Included was study of Jean Paul Sartre's famous Huis Clos, a play about several very different people trapped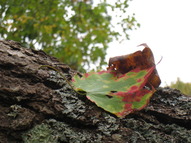 together in a small space.  Just like people do when they first meet, the characters in this play presented themselves as they hoped to be perceived, then as time wore on, masks chipped away to reveal what each person really was, particularly because the only escape from each other could be achieved through socio-emotional means, including alienation and manipulation, the familiar fodder of reality shows today.
This last week, we embarked on what could be a Huis Clos experience.  My little family and some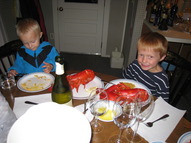 close friends embarked on a vacation to Maine.  Although typically an idealist, family situations often make me more of a pessimist, as like any parent, I can just imagine what could go wrong, particularly with a daughter in her "terrible" twos and a son who hates to give up his control over his world.  We found ourselves in cozy quarters many times throughout the week, and the pessimist in me imagined them going from cozy to cramped in a heartbeat.  From a compact SUV to a bus to an airplane cabin to a minivan to a little beach cabin, we hopped from close quarters to close quarters.  And I kept imagining the worst…
But it never materialized.  Thank goodness.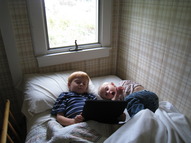 We even piled another family of four into the beach cabin on our last night there, and the nuttiest thing that happened was little Holly stripped naked twice and ran all around the house hooting and hollering.
So why did cozy never turn to chaos?  I attribute it to several simple things: (1) The ratio of adults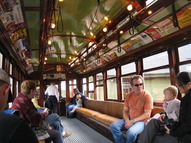 to kids always exceeded one; (2) Outdoor showers, fresh air, and space to run "resets" everyone; (3) Finding butterflies, grasshoppers, potato bugs, and crabs gives us pause to appreciate the details around us; (4) The world is our playground – there are rocks to throw in the water, sticks to collect, and sand to dig – and we can wash up later; (5) In small spaces, everyone is aware of the rules, the plan, and can support others when kids would otherwise break rules or throw the plan out, or work with each other to reach amiable compromises.
A lot of these lessons came easily because of Stroller Hikes.  My kids have been hiking and playing in nature their whole lives, and when they are out on Stroller Hikes hikes, they interact with a lot of other adults so have become used to taking direction from others, as well as playing with and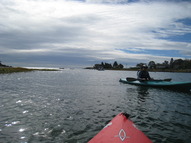 learning from others.  They are accustomed to traveling to relatively distant locations, and are relatively open minded about new sights, sounds, smells, and tastes.  And we've been pushing for "free play" time and compromise since the kids were able to participate in these things. 
Highlights of our trip include what you see in these pictures and more: I tasted the sweetest lobster of my life, enjoyed the International Cryptozoology Museum in Portland, hiked in the Rachel Carson Wildlife Preserve, kayaked around little islands in the bay, enjoyed a Trolley Museum, found snails, clams, crabs, and mussels, and enjoyed all that is colorful, wet, misty Maine.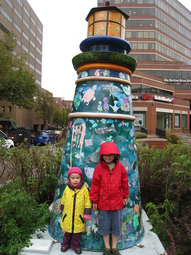 This weekend Amity and Karen led a Yurt Camping Trip at Mount Madonna in Watsonville, which is sure to be fun, given the magnitude of fresh air, sticks, and critters around.  I hope it's warm enough for them, and the parents have fun, even though parents tend to be sleep deprived when they camp.  Next week we'll be sure to report out about that, for those of you curious about yurt camping!
As the camping season draws to a close, it's time to start thinking about next year.  If you are interested in leading a camping, yurt camping, cabin, or backpacking trip with Stroller Hikes next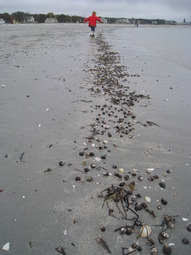 year, please let us know (admin@strollerhikes.com).  We had the following trips this year, but are open to other ideas!
April: Yosemite Camping Trip
May: Point Reyes Backpacking Bambinos
May: Gold Country Camping Trip
June: Sunol Backpacking Bambinos
July: Monte Bello Backpacking Bambinos (Black Mountain)
August: 6th Annual Bravo Ranch Camping Trip
September: Marin Headlands Backpacking Bambinos
October: Mount Madonna Yurt Camping
Debbie (President and Founder), Holly (2), Max (6), and Andrew