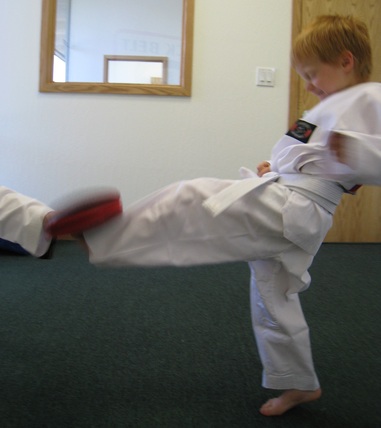 Hiking is great – relaxing, engaging for the senses, a way to explore nature and history, and some good exercise.  But for a growing child, it does not necessarily get "all the wiggles out."  Many families turn to professional sports instruction to teach their kids new ways to move, build balance and coordination, and learn to take direction from a "coach."
We made good friends with a new transplant to the Bay Area last month, at the Cystic Fibrosis Foundation's Great Strides Fun Walk.  Pam and Tom Sroka have moved to the San Jose area from Buffalo, New York.  Having studied for years under the tutelage of Grandmaster Sun Ki Chong, they have opened a new Tae Kwon Do studio near Campbell, and offered us and other Fun Walk participants a great 4-visit package to their new studio for $10.  (Note that you can try their free trial program for 2 weeks of instruction for FREE – see http://www.martialartsinsanjose.com.)
Max is a great fan of Kung Fu Panda, wrestling with dad, and Asian culture (largely through his school, and partly because of his good adult friends like Yoorah, who gave him "trainer" chopsticks and has exposed him to Korean food).  Paired with enjoying kicking, punching, and yelling with the Srokas while we were at the Fun Walk's festival, it was a no-brainer to sign him up.  This week, we had our first and second classes, two one-on-one 30-minute sessions.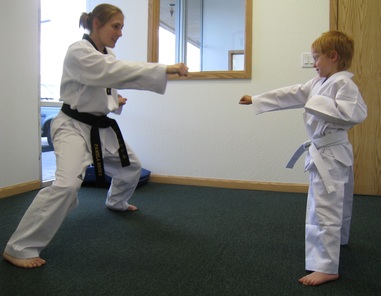 I was amazed at first at Max's focus and energy – here was a very mature boy learning to coordinate sound, expression, and physical moves, and refining when his teacher made a single suggestion.  Where was my son who required three reminders to get anything done, and could have NO energy for completing a task when I asked it?  Speaking with Mrs. Sroka later, we discussed that goals for him would be to improve his coordination, listening, and patience.  Max starts his group classes next week, and I am curious to see how he improves in Tae Kwon Do, and hopefully can bring some of his skills home.  As a teacher returning to the classroom in August, maybe I 
can learn a thing or two from these excellent teachers – I have already been thinking about their intent and focus in lesson design for such young kids, which even Holly was paying attention to (image, right).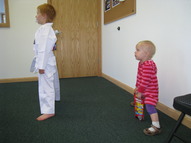 As for hiking, we'll still hit the trail, and if you've met Max, you may start seeing some changes in his leadership on Stroller Hikes as well.
-Debbie (President and Founder), Max (now 6!), Holly (now 2!), and Andrew