Many of us shy away from the weather this time of year.  Add to that the dark mornings and evenings, and you might find yourself inside all day.  Don't do it – the outdoors are exactly what you need to shake out some wiggles, knock down the winter doldrums with a dose of Vitamin D (so keep some skin exposed to the sun that isn't coated with sunscreen, for 20 minutes), and keep your blood moving.
This week was a classic case; with a head cold to slow down my mental faculties, and cool, dim, wet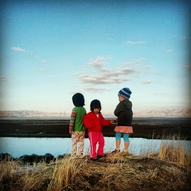 weather to start the day, you all got a rare message from me – we were no going on our scheduled hike.  Come afternoon, the sky had opened up into blue, with puffy white clouds, and the air was warm.  Happily, a bunch of families showed up to the scheduled hike at Byxbee, and Karl provided the photo at top, right, and left.  What might have seemed as a misty mountain hop in the morning, turned into a bright, brisk romp in the afternoon, the perfect thing to release wiggles that had accumulated from a morning spent indoors.
Friday, we ventured outside for some mountain bike training – Max (6) happily cycling up hills (and walking some), then rolling down, practicing handling, brake use, and budgeting his energy (or turning around sooner) for the longer hills.  We picked a course with lots of loop options, all which were short enough for me to see him all the while that Holly was learning to use her tricycle.  Not all mountain biking affords this, but it was a great way for us explore it together.  Max, Lisa, and I are working on a list of places to keep practicing our skills, every other week, on Fridays.  On off weeks, we will continue climbing at Planet Granite.  Keep in mind that another biking option is on Mondays with Sabine – they've been having a blast farther up the Bay with rides often along the Bay, with a nice Pirate's Booty break in the middle.
While we won't stop hiking for a while (late afternoon hikes stop or get shifted in a few weeks), we've packed up our camping gear for the year.  Cabins are the only thing that still holds allure for us with the short days and cold and sometimes damp nights.  Our last trips were a couple weeks ago, the second of which was the yurt trip to Mount Madonna, which was a big success.  The week prior, we explored Marin Headlands' Hawk Camp for backpacking. 
Marin Headlands is a great place for a future Backpacking Bambinos trip.  Hawk Camp is one of the more remote camps (surprising at less than 4 miles in), but the hike in was wide, safe, and the terrain often made us think of Mars – it gets so dry and exposed in these headlands, that plant life is small and sparse.  Our only hesitation in planning the trip was the water situation – this camp had no water, and there was no water on the hike in, as well – no creeks, ponds, lakes, or rivers.  The hike in was beautiful, above the bay on both sides – we could look down to Sausalito's marina and check out sailboats on the Bay on one side, and look down to the open ocean on the other, until the fog rolled in.  As soon as the fog was dense and the sun had begun to fade, the fog horn started up, and it lulled us to sleep all night long. 
Not growing up here or at the beach, I really had no idea that fog horns are stationary objects – I
thought they were always on boats – but there are huge horns mounted to the hills along the bay, and they can sure do a good job amplifying sound in their two pitches.  Our camp did have one or two springs nearby, but a well or collection pond has yet to be formed, so rangers were right to tell us to pack in our water.  We had lovely foggy views of some San Francisco landmarks, and an easy hike out the next day.  If you're interested in checking out Marin Headlands more, see http://www.nps.gov/goga/marin-headlands.htm.
We'll start planning more camping and backpacking soon – last year we started making reservations in November.  If you would like to help pick locations and times, co-lead or lead these events, please let me know at admin@strollerhikes.com.  Next year's events will be sure to be a mix of Backpacking Bambinos trips for little kids learning to backpack, with a 5-mile hike in maximum, car camping trips, for folks wanting to drive up to their camp sites and stay in tents or yurts, and one or more cabin trips.  We'll aim for National Parks and Forests, as well as State and County Parks.  Elia, in the meantime, one of our fantastic student interns, will be working on adding content to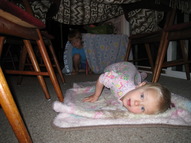 StrollerHikes.com on Backpacking – a content area we can certainly add more to on StrollerHikes.com, after two years of trips.  And Max and Holly, while waiting for the new season, are busy making indoor forts (photo at right).
Be sure to get outside to enjoy the fall weather!
-Debbie (Founder and President), Max (6), Holly (2), and Andrew
p.s. This week's title IS named after the Led Zeppelin song.  Sure, I reference misty mountains a couple of times, but then there are also Karl's photos of brightly colored kids amidst nature… A nod to Karl's photographic ability, amazing kids, nature, and old album art.
---