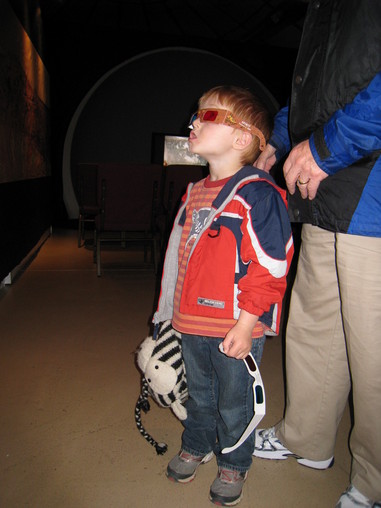 Recently, we approached the quandary of what to give someone for a birthday.  We didn't want to buy any more books or toys, knowing that they might lose their allure amidst the tide of similar gifts.  We thought about what really matters and what makes a big impact, and quickly concluded what we would do.
We would give the gift of experience.
For older people, this means cooking, art, or recreation classes.  This birthday girl, at just 1 year old, couldn't follow along with such things, so I turned to Max, my 4-year old, for ideas. 
"How about a hike?" 
A hike was an excellent idea.  If this lively lady didn't already have a sun hat and other associated gear to face the weather and outdoors, we'd consider outfitting her for hiking.  But indeed, mom and dad loved to travel and get outside, so we weren't facilitating anything new with this hypothetical birthday gift.  Plus, hiking is free – thanks to plenty of no-cost trailheads and resources like StrollerHikes.com that help one find a hiking location (http://www.strollerhikes.com/Hikes/ComparisonChart.php).
"How about Garden Burger?"
Max meant Gilroy Gardens (he has yet to fully internalize what Gilroy is, so he associates the name with something else called "Garden").  True, this is a pretty cool place.  If you haven't been, it's very much like a mini-Disneyland for toddlers.  But it comes with a substantial price tag that I wasn't quite ready to pay, and I preferred to pick a place a bit closer to home, with more suitable for slightly younger kids.
Max's suggestion sparked us to finally choose a place – Happy Hollow – which is an amusement park and zoo in San Jose.  
Here were other suggestions from Max:  The YMCA for swimming lessons, The Children's Discovery Museum, The Palo Alto Junior Museum (free), The Children's Natural History Museum (free – and very cool, especially if you like archeology, biology, or geology, in Fremont), the NASA Ames Museum (free – photo above), and Cal Train for a ride to a neighboring city for an afternoon (unfortunately, passes expire).
We hope you enjoy your experiences with Stroller Hikes and can pass them along to others, without thinking twice about your pocketbook!  We really enjoy seeing new faces on our runs, treks, and hikes each week.  Got your own idea for an experience you can gift for infants or toddlers?  Share it online at http://www.facebook.com/pages/Strollerhikescom/195937147084664
– Debbie, little Max, and wee Holly (Founding Stroller Hikes Family)