Kermit sang "it's not easy being green," but nowadays it's quite unfashionable NOT to be green.  I grew up learning about recycling — there was the great sense pride when smashing cans with the sledgehammer so our recycling didn't take so much space, and the great finds at the second hand store — one man's trash is another man's treasure.
On Monday evening, we'll take a stab at making a humongous greeting card for Santa Clara County's Festival in the Park, using several hundred caps from bottles, and any number of other wares that can be artfully applied to wood.  Bonus points for recycled goods!  
The county has welcomed health-conscious youth organizations, like Stroller Hikes, to submit entries, and several of our crafty moms said "yes!"  Tonight I assembled a box of paint, brushes, glue, and more.  I'm so curious to see what treasure is constructed with the little and big hands that get crafty on Monday.  If you are interested in participating, please let Rebecca know at rebecca.lynn.taylor@gmail.com.  There will likely be a second  card decoration party for this huge card, if Monday doesn't work for you, so contact Rebecca if you'd like to be included in planning a second date.
Max, Holly, and I had a lovely hike a month ago at Byxbee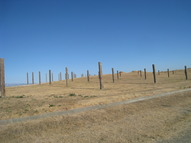 Park in Palo Alto.  Byxbee is undergoing a major development and expansion right now, where Palo Alto's trash will become a natural and recreational treasure.  A garbage dump used to be adjacent to Byxbee, which you may know better as the baylands between Palo Alto Baylands and Shoreline Park.  This huge park includes some huge modern art displays (pilons (at right), concrete panels, and dirt "whoopties"), wildlife preserve with excellent bird watching (Max looking out for birds during a snack break, at the top of this newsletter), and wide, well groomed trails frequented by bikers, joggers, and (stroller) hikers.  
The dump has been declared "full," and a final layer of dirt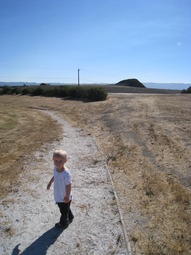 applied to the top, well after items were packed down and aeration vents applied in some places.  Next, grasses and trails will be laid, with signs to mark these new routes.  You can see the huge hill that was the dump, behind Byxbee's bluff, where Holly is hiking, at right.
It's exciting to imagine traversing the great hills with water-rich baylands on both sides — we may have to revise the route from Emily Renzel Wetlands to the baylands at Byxbee so that loud, traffic-heavy Embarcadero need not be hiked.  Max, being fond of hills, construction, and productive vehicles and city departments, can't wait to hike on the dump.  Drop by Byxbee to hike the hills and get a closer look as the hill develops.  For more information about Byxbee Park, see http://www.strollerhikes.com/Hikes/Byxbee/Byxbee.php.
If you want to see the major progress at restoring otherwise abused land, visit Ulistac, our featured From the Field location, below.  Melissa led a stroller hike there this week, and enjoyed the many regions of the park, which many years ago was an industrial site that has since been rehabilitated as a wild region.  You can still see evidence of this, as more native plants are added each year, and the city adds an extra layer of mulch here and there, to supplement the soil.  It's opposite to Joni Mitchell's Big Yellow Taxi lyric: "They paved paradise and put in a parking lot."  What lost value for industrial purposes has since regained status as a natural treasure.  To learn more about Ulistac, see http://www.strollerhikes.com/Hikes/Ulistac/Ulistac.php.
– Debbie (President and Founder), Max (6), Holly (2), and Andrew