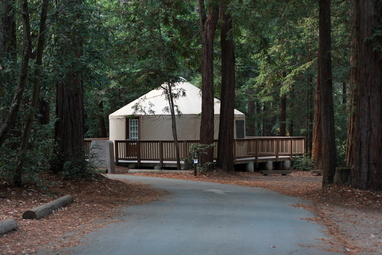 Amity and Karen hosted Stroller Hikes' fist Yurt Camping Trip last weekend.  This kind of camping – glamping some call it – has gained in popularity in the last decade or so.  Maru had suggested we look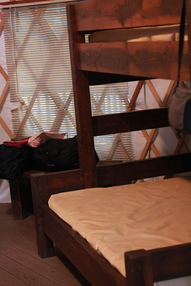 into yurt camping last year, and with several of us diligently reserving the yurts as soon as possible this Spring, we nabbed all the yurts in Mount Madonna, for this "sell out" camping trip.  (Stroller Hikes does not charge any fees beyond what it costs to simply reserve the yurts; as soon as we had plenty of families express interest in the trip, we grabbed every spot we could find.)
I was really curious about how the trip would go.  Carrie Grisenti at the Santa Clara County Parks and Recreation Department was thrilled we had so many families going, but warned me the yurts could be cold.  Some families wondered about sharing a yurt with another family.  Some families were brand new to camping, and most were brand new to glamping.  So many questions…
Here's what Amity had to say:
We had lovely weather and an enjoyable trip to Mt. Madonna.  My family was only able to make it for Saturday night and we actually camped in a tent, rather than a yurt, but we were still able to enjoy many laps around the campground circle on scooters, kebabs over the fire, conversation, S'Mores, more loops on the scooters, building a tree-fort, and a hike to the giant twin Sequoias with some new friends in the morning.  What fun!  
My favorite part of the trip had to be when my boys, along with their friend, Levi, came directly when bidden to get ready for bed and fell asleep quite quickly once they were comfy in their sleeping bags.  I wish bed-time was that easy at home.  🙂  I think the fresh air and super scooter arena of the Mt. Madonna campground were key.  Ha!  (Oh, and I also loved hiking.  I always love hiking.  Beautiful surroundings – even the drive in from Gilroy was spectacular.)
Paraphrased from Liza: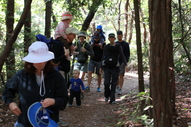 The yurts were beautiful.  They had nice decks with railings so new walkers could walk all around the yurt and explore, safely.  Camp was so clean and well maintained, too, and the rangers were really nice.  Inside the yurts, there were twin-sized top bunks, and some double-sized bottle bunks, which was a nice treat.  Some also had futons, and there were tables/dressers to stash bags/gear.  A plastic bubble on the top of the yurts let us see the stars while we were lying in bed – beautiful!  We had great fun on two hikes – one really long one, and one much shorter.  Mount Madonna is an amazing place.
And Karen had a blast.  She offered up the photos in this newsletter: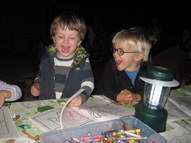 Laertes (her son) and Lukas (Melanie's son) hiking together (at bottom); the yurts, outside and in; kids having a blast biking/scooting, coloring, and playing in the stump near camp; and hiking.
We'll certainly plan on glamping again in the future, hoping to match families with like-aged kids to bunk together in the yurts, so naptime goes more smoothly.  We may also decide to grab some adjacent campsites in the future so more people can come. 
Hopefully this message encourages those of you curious about glamping to give it a try – Mount Madonna is the first place in Santa Clara County where yurts have been installed.  Other great pseudo-camping options this time of year include staying in one of the many California hostels, including ones at Point Reyes, Pigeon Point, and Hidden Villa.  For more information about yurt reservations in Mount Madonna, see http://www.sccgov.org/sites/parks/Camp%20Here/Pages/Yurts-Here.aspx.  For more information about these hostels, see hostels.com or other general hostel websites or for Hidden Villa's hostel, see http://www.hiddenvilla.org/rentals/hostel.
Stroller Hikes is looking forward to camping, backpacking, cabin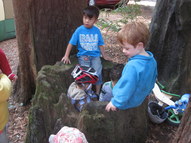 stays, and glamping fun next year, and is seeking volunteers to host trips for next year.  Stroller Hikes can take care of a lot of the logistics, and hosts would help lead the events when they occurred.  If you are interested in hosting or have ideas about where trips should be next year, please contact Debbie at admin@strollerhikes.com.  Last year's trips were:
April: Yosemite Camping Trip
May: Point Reyes Backpacking Bambinos
May: Gold Country Camping Trip
June: Sunol Backpacking Bambinos
July: Monte Bello Backpacking Bambinos (Black Mountain)
August: 6th Annual Bravo Ranch Camping Trip
September: Marin Headlands Backpacking Bambinos
October: Mount Madonna Yurt Camping
Hope to hear from you – Stroller Hikes is entirely volunteer run, and depends on our generous volunteers for all of our events.
-Debbie (President and Founder), Max (6), Holly (2), and Andrew