Forgive the double e-mai this week: We have fixed a typo below.
Ahh!  Stress!  (much yelling follows)
When I was in college, we partook in dead week, of no relation whatsoever to Dia de los Muertos or the Grateful Dead (though they frequented my college town until Jerry Garcia died).  Dead week is the week before final exams, when studying is at an all-time high.  Both campuses I attended tried their best to lighten the otherwise somber, overly anxious, or caffeine-jumpy mood, by scheduling twice-daily "scream-fests" during which doors and windows would be propped open (even when it was dumping rain outside), and every person on campus would howl, shout, and scream, for one minute.  It was an amazing sensation – you'd have been isolated, neck deep in books for hours straight, then pop up and howl, feeling a sense of belonging with other studiers near and far.
I'm back in the classroom teaching this year, and Monta Vista High School is as high-stress as any high school or junior college can be, with student and parent expectations very high, and API scores at a record high that administration and staff hope we can maintain or grow.  I love teaching, but this is the worst time of year for me, and all of my students.  The stress can be unbearable to everyone – I've seen all types of emotions in the last two weeks.  The anticipation of end-of-semester grades, the intense studying before finals, the eminent personal obligations for the holidays – these all take a toll.
I finished grading an Algebra 2 exam this week.  I try to be the reliably fast teacher, when it comes to grading, but this exam slowed me down a great deal – I must have spent 8 hours grading about 90 2-page exams.  That's ridiculous, except that the stress has a hold on me, too.  I want to give my students a strict standard to work towards, but without partial credit, grades would certainly suffer.  Likewise, without lots of written feedback on their work, I feel that I haven't given them the coaching they deserve.  In the end, about half of the students earned Ds and Fs on the exam anyway, and I stressfully entered scores into my digital gradebook, expecting the worst.  In all of my years of teaching, I have never had a student fail my course without working at it, by not turning in work, skipping tests, or cheating, and I worried this one exam might create an exception to that pattern.
But even my student who earned a "2" (yes, that low) is still passing.  It was a healthy dose of reality for me, and gave me pause.  I had fallen into the emotion-laden pit many students fall into at his time of year, assuming that a single test can mean ultimate doom for any of their academic pursuits (which is frankly impossible).  
Almost no single event can dictate life-long failure.  As parents, we can coach, lead, teach… and we hopefully show our children, through our own successes and failures that we manage through the good and bad, through the stress, and things end up falling into place.  In science, we learn that experiments will likely fail (at least the first time), and we can learn a lot from our failures.  The same is true for all life experiences.  This is the lesson I hope that my kids learn for themselves. 
Some of my favorite Stroller Hikes parents are excellent at letting their kids experience failure.  No, they don't impose negative experiences on their kids.  These are the parents that let their kids "shake it off" on their own, when they trip and fall.  These are the parents who let their kids figure out to get their own drinks, even if it means 10 more minutes of clean-up time, and a sticky floor.  These are the parents who let the kids try to build that tree house, robot, or telephone (all things I tried when I was young, without intervention from my parents, as far as I am aware, and without complete success).
So I'll put my neck out and try something, then work with the results.  (Hey, this is how Stroller Hikes came to be.)  I'd want my kids to do the same thing.  And if the stress comes to a head?  Teach them how to shout, yell, scream, and bark, then listen for others feeling the same way.
-Debbie (Founder and President), Max (6), Holly (2), and Andrew
p.s. I wrote this essay on Wednesday, December 12th, after finally finishing grading those pesky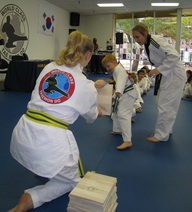 exams.  Since then, I have seen my son, Max, face pine boards and break through them time and time again (seven times, to be exact) with his hands, feet, and elbows, as part of his school's Kicking for Miracles fundraiser.  I asked him if he was scared.  I asked him if it was hard.  "Yes," he said, "but I just had to focus and work really hard to do it.  It was fun."  He helped his Tae Kwon Do school break 1000 boards and raise over $12,000 for Lucille Packard Children's Hospital, which provides care and research for ill children, regardless of that child's ability to pay for it.  That's him, with his 6th broken board at top, and working on his 4th board with a side kick, at right (with one of his teachers, Mrs. Sroka, looking on).
On Thursday and Friday of this week (and perhaps for days to come), my school was contending with its own stresses – this time imposed by what we imagine is a disturbed student with a grudge to bear (I won't go into details, but several media outlets in the area have; it is definitely dwarfed by the tragedy in Connecticut on Friday).  I'm hoping we can break through that cloud of stress with a little elbow grease and some healthy perspective.  I taught many of my students on Friday about barking and yelling on "dead week," and did my best to remind them that their teachers were there as guides and caregivers, particularly during times of stress.  As we screamed together for a minute, I'd like to think some of the stress subsided.