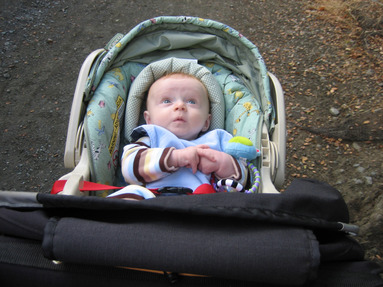 I visited my grandmother on Monday.  She's experienced a rapid decline in health over the last month, so I wanted to take the opportunity to visit and spread a little love.
Grandma has always been such a spunky little thing, with a stubborn, opinionated streak, witty sense of humor, and plenty of creativity for all things domestic.  She taught my mom to be the tough-as-nails, never-afraid-to-be-dirty, loving caregiver she is today, and I'd like to think some of this rubbed off on me, too.  She was always one for a good jigsaw puzzle, singing round the organ, or tasty recipe.  We'd giggle at silly things Grandpa would do, and she was always ready with a story about where we were from – who was family, and how hard so many of our ancestors or neighbors had worked.
Grandma started fading noticeably a few years ago.  She used to swim and walk often, and tended her garden and kitchen in a manner far surpassing the likes of Martha Stewart.  There would be occasional lapses in conversation during our annual or bi-annual visits, and she seemed a bit more frustrated with the world.  She quickly resolved that swimming was too much.  Her walks became shorter.  She had a fender bender and gave up her license.  She stopped volunteering so much.  She stopped cooking most foods, and began forgetting things she had done thousands of times before – how to cook rice, for instance.
On Monday, I visited her in her home of just a short while – a room at a very nice senior residence, specifically designed for elderly people with mental limitations.  The cutest little grandma you can imagine still had a hop in her when I walked into her room – but she didn't quite have the strength to jump up from her seat.  Still, she was happy to see me, and she was pleased to receive my gifts and hugs. 
As we spoke, I saw words rattle around the room – some would make their way to Grandma's ears, and settle well with her, others seemed to catch her confused.  Like a very young child or an English Language Learner, she was all at once engaged and unengaged in the conversation around her.  Her happiness turned to concern, then dismay, then hope, then subtle fuzz.  She took a couple of naps during our visit, and seemed genuinely grateful when I left, but I'm pretty sure she didn't know who I was.
As I drove on to my mom's house, I thought a lot about our interaction.  If you've followed the popular "Benjamin Button" or read other literature on aging, some people postulate that very elderly people are really not so different from very young children.  They need a lot of help from others to carry out functions many of us take for granted, and comprehension can be spotty.  But they still grow from and appreciate love.  I'd like to think that deep inside Grandma still can recall some of the most vivid, wonderful things in her life, that she has a unique perspective that helps her enjoy the world, that she is still passionate enough about some things to crack a witty comment or make a bold, opinionated statement.  But watching those words scatter around the room as we spoke, finding very little purchase, made me feel like perhaps her mind had faded far beyond what my optimism would have predicted.
So what can she enjoy, if she lacks her old perspective?  Next time I visit, I want to take her for a walk.  Mom says she might refuse, but I want to try.  After months of snoozing, and doing little, I recall each of my kids starting to perceive their worlds.  To see the light between tree leaves, dew on blades of grass, varying tones of greys, browns, and greens.  To feel a breeze on a cheek, to hear the whistle of birds, chirp of confused crickets.  I recall vividly the first hike at Los Gatos Creek Trail (towards Lexington Reservoir) when Max responded to his first squirrel sighting (photo of that moment, above).  He sat wide eyed and excited, shrieking and flailing his arms about, as a bushy squirrel jumped from tree to tree above the trail.
When we laid Grandpa to rest years ago, I found solace in the fact that he was buried beneath a tree.  He'll always have those leaves, that dew, those greys and browns, chirps, and whistles.  Even if we cannot follow a conversation, assemble a jigsaw puzzle, or recall a story, we can all appreciate nature.  It's what brings us full circle.
Debbie (Founder and President), Max (6), Holly (2), and Andrew
p.s. Just heard from mom, and Grandma has a new light in her eyes.  She may very well enjoy that walk at Christmas!