Wow – what a week!  Last week was busy and amazing from a personal and Stroller Hikes perspective.  We celebrated our 6th Annual Stroller Hikes Family Camping Trip, for the 4th time at Bravo Ranch in Soquel; many of us ramped up for the new school year as we ramped down from summer camps, play dates, and vacations; and all the while, the weekly free Stroller Hikes events went on – I had 22 attend at Picchetti Open Space for our Backpacking Bambinos/Toddler Trek on Thursday – and we had several other events including Melanie's Santa Cruz Beach Walk, also promoted in this newsletter.
I really wanted to call this newsletter "Bravo," as I have done before, in honor of the wonderful Bravo and Letona families for facilitating the best camping trip of all time.  For the last four years, the Bravos and Letonas have enabled us to have a huge camping fundraiser –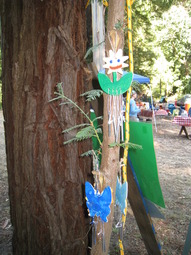 families pay a modest $25 per night to camp on their ranch, play by the creek, visit the farm animals (including newborn baby bunnies this year, actively laying chickens, and newly installed bees), pick fruit (especially blackberries from the vine), play on the playground, go on tractor and ATV rides, play in the tree house, eat great camp food, find wild critters like slugs (photo above), crayfish, and more, roast marshmallows and make s'mores, do countless crafts (like windchimes, at right), and go on short night hikes to the great field, to look for stars, satellites, the space station, and this year "contract missiles," which were described by Alex and subsequently bunches of other kids as satellites used by the military to take photos of troop activity.  It was a time for relaxation, while the kids played together, we were unconnected from most technology and more regular task lists, and people shared in cooking, cleaning, and other chores around camp.  We got to connect with others, play cards by the light of lanterns,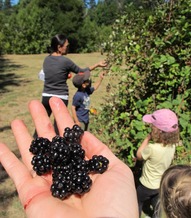 and laugh with friends until all hours of the early morning (a nod to you, Nick and Michi!).  I am clearly not without words to describe the event itself, but emotionally, I am rather speechless – I feel indebted to the Bravos and Letonas for their tireless work to make this happen every year, and am in awe that they are so willing to share, extend themselves, and open their hearts so much to friends, new and old, every year.  A lot of this is due to fond memories of playing at the creek and on the ranch for decades; Toni and Fred Bravo particularly enjoy seeing little ones doing exactly what they did, their kids did, and now their grandparents do, on the ranch – love, laugh, explore, and more.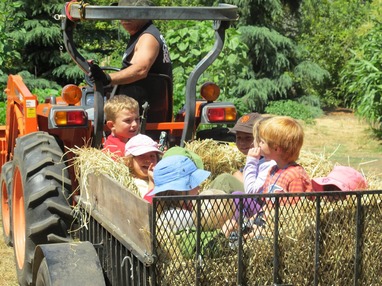 The event drew a bit more than 80 people to join us – some for all weekend, and some just for one afternoon, or over one night and two days.  We saw a huge range of nationalities represented, including Honduran, Nicaraguan, Belgian, French, French Canadian, Scottish, Swedish, Italian, Indian, Japanese, German, and American… We saw folks that have been Stroller Hikers for the last 6 years, others that are brand new to Stroller Hikes, and folks in between.  One of these "in between" representatives are Fred, Julie, and their daughter Camille, who we said "farewell" to many of us last evening – they are leaving after several months in the US, back to France, and tackled Stroller Hikes events with gusto, first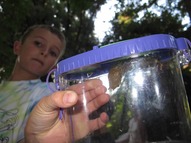 attending our Point Reyes backpacking trip much earlier in the year (and tacking terribly overgrown wild parsley as they forged ahead with their stroller on a tow-line, with Fred as the towing vehicle).  They shared with me how they really appreciate having Stroller Hikes as a way to meet folks with common interests and values, while getting something done – exercise, nature exploration, and socialization.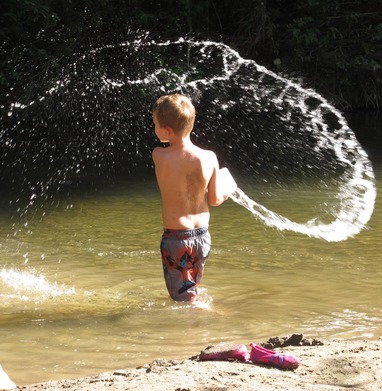 The camping trip raised 900 dollars, which will be used to supplement first aid kits, magnification glasses, and laminated field guides for our hike leaders; pay for our annual subscription for a SPOT (Satellite Emergency Beacon for back-country events); buy craft supplies for festivals Stroller Hikes participates in; market (we are printing new tees and sweatshirts and use lots of business cards and fliers); and pay for first aid training for our leaders (we started an annual training session, last spring, and are researching a more wilderness-y course for next spring, if we can afford it).  We will continue to do all we do for free, thanks to our wonderful all-volunteer staff, and generosity of people like you, who contribute 
time, energy, and ideas to make Stroller Hikes grow.  We're always in search of volunteer writers, photographers, programmers or other tech-savvy people, and marketers, as well as event leaders.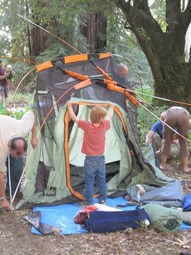 We're also always very gracious about accepting donations of jogging strollers or soft carriers (especially Ergos) for our Gear On the Go lending library, or your financial contribution, both which are tax deductable.  To donate, use PayPal at admin@strollerhikes.com (be sure to select personal/other or donate so as to avoid fees) or send us cash or a check to Stroller Hikes at 517 Fern Ridge Court, Sunnyvale, CA 94087 – be sure to include your name and address, so we can send a receipt for your tax records.
Enjoy the photos throughout this newsletter of the Bravo Ranch trip last weekend, Seabright Beach Walk from Friday, and the Picchetti Open Space hike from Thursday.  Accolades are in order, for all of you families that make getting outside to exercise, socialize, and explore nature, a routine for your family.
– Debbie, Max (6), Holly (2), and Andrew
p.s. Kudos to Maya for so many great camping photos.