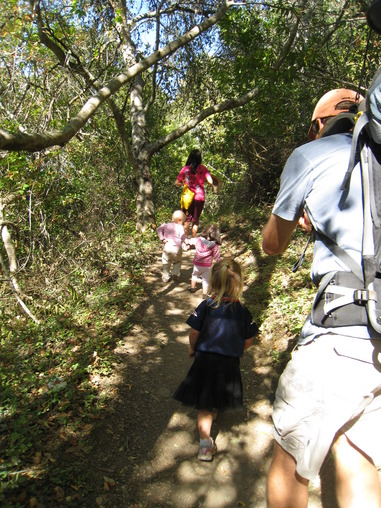 I am fourteen years old, not a mom, and the proud owner of a Jansport backpack instead of a stroller, yet this week, I had my first hike with Stroller Hikes at Edgewood County Park, and I enjoyed it. Whether it was Holly throwing rocks or Sierra talking about herself, there was never a dull moment. The kids had fun. The parents talked. And I even learned a thing or two about life.       

Here are some of the lessons I learned on the hike.
1) Resilience. I can't even count how many times little Holly picked herself up from a fall and kept going even though she was tired, hungry, and maybe even a little bored. I can't even count how many steps Sierra walked with her recently twisted ankle even though she had hurt her other ankle not long before. The ability to trudge through hard times is a valuable asset, and if two to five year olds can do it, then why can't I? So next time I feel stressed from tests or frustrated from projects, I won't give up. I will be resilient.

       2) Exploration. As Holly and Audrey took turns smelling sage, I was once again reminded of our innate curiosity to explore and to discover. However, as we get older, sometimes that curiosity is burdened by the baggage that we carry — both the lack of time and the fear of doing something new. But the curiosity won't go away. And as I watched Holly look for fish, Max point at a deserted picnic site, and the kids learn about rattlesnakes and poison oak, I remembered a time when I thought that the world was fresh, young, and new. It seems like the past now, but it doesn't have to be. Now when I go on hikes, I will look around, smell the flowers, and explore.
       3) Friendship. I was reminded of the value of friends when Keira and Holly held hands, hiking together (photo at top). It is not only a picture-perfect moment but is also a gesture of support and care, which is only what friends can give. After all, when I become a parent, who else will I be able to discuss my child's transparency with, laugh at stories of camping adventures with, and share Pirate's Booty with at snack spots? It's great to have a shoulder to lean on during the toughest and most amazing of times. It's great to have friends.
       I learned much so more from one hike than I did from a day of classes at school, so next time, you go out for a hike, keep your eyes peeled. You never know what you'll find.

– Elia Chen

Editor's Note: Elia is one of our summer interns (pictured at right), all Monta Vista High School students who were eager to flex some of their skills in technology, education, art, and communication, and pick up some additional skills and guidance from Stroller Hikes staff. Internships have been offered every summer over the last 4 years.
---