Years ago, IBM owned substantial acreage around their San Jose facility off Bailey Road, and took extensive security measures to make sure civilians did not come close to this research facility, where even today, cutting edge research in biology, chemistry, physics, and computer science takes place.  At least a decade ago, they released some of the land to Santa Clara County as an easement, permitting mountain bikers, equestrians, hikers, and runners, to take advantage of this hilly landscape just Northeast of Calero Reservoir, and not far from the main part of Santa Teresa County Park, such that this acreage is listed as an adjunct to Santa Teresa.
This Fortini/San Vicente trailhead is a favorite of Stroller Hikers; it's hills are not nearly as steep as some of the hills along the trails of Santa Teresa from Santa Teresa's main entrance, and this side of the park gets much less use.  We typically hike the low ridgeline near the perimeter of the park, passing urban farms, stables, an old barn where we'll sometimes see a farm cat or hear an owl, a fun Madrone Tree good for climbing, and drier areas rich with serpentine and sage, then take a break beneath Coast Live Oak Trees, near the creek.
This week, Holly and Max were super excited to hike, and when Liza, Sasha, and Nico showed the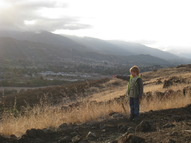 same enthusiasm, we decided to conquer the mountain biker's hilly paradise by zigzagging up from the trailhead.  The kids were amazing – Sasha, Nico, and Max bounded up the trail, like billy goats with no intimidation about the climb or rocks, and only excitement about how high we were getting in very little time at all.  Sasha kept proclaiming, "I can see Russia!" and Max commented about how our car was as big as a Matchbox Car from the overlook we stopped at, to catch our breath.  Holly and Nico spotted horses in their pastures below, so small I had to squint to find them.  Getting to what I thought would be the top, the kids urged us on, and we finally stopped for a snack break near a funny metal sign mounted to a rock (pictured at right) that certainly has a story behind it: "Skanka, will you marry me?"
Refreshed with snacks and water after a mere ten minutes, and seeing the black rainclouds over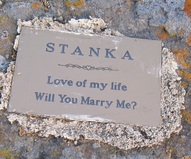 Cupertino move Southwest towards the coast, Max and Sasha ran ahead, over the ridge and down the other side, only stopping briefly to smell a Bay Tree and get off the trail to let some mountain bikers pass. 
It was at this Bay Tree that we saw IBM's green roofs, not far from us, on an adjacent ridge, with Bailey Road between (you can see it in the following photo).  Did IBM still have security watching those fences?  Old, faded signs abounded, reminding us to not cross the fences.  Max kept mistaking them for maps, calling out to us "follow me – let's read this map!"  Who knows if someone was watching, or he lingered close to one of those signs for too long, but just a couple minutes after we had re-reached that Bay Tree on our way back to the cars, a slick, black helicopter whirred not more than a couple hundred feet overhead, and quickly circled back.  Everyone was excited to see it, but what was it doing?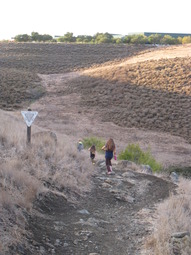 It continued circling the area as Sasha and Max raced back to the cars.  Max fully expected the helicopter to land on the road and come to interview the two of them, asking something like "Wow – you kids are fast hikers.  What are you two doing all the way out here by yourselves?"  (His 6-year-old pride shines through, huh?)
No helicopter landed, and by the time Liza, Nico, Holly, and I had rejoined Max and Sasha, the helicopter had flown away.  
Curious… and quite exciting for young kids with adventure on their minds!
We hope you can enjoy your own adventure soon!
-Debbie (Founder and President), Max (6), Holly (2), and Andrew
---