Feedback is an important part of the life cycle of any creative process, and you Stroller Hikers are full of it!   Our survey this year revealed a nice set of "roses and thorns" a feedback term I learned when I was in high school as a thespian.  Judging theatric performance was always hard – teenage awkwardness made acting and judging other difficult, and one didn't want to squash someone's dreams or creativity.  But mature artistic endeavors and mature artists thrive on input from others, even if a little criticism initially hurts a bit.
This year's survey was full of roses, but not too many thorns, just as this year's high school interns are full of gently, constructive criticism.  Hoorah for them – they have VERY helpfully been chipping away at projects on our stack for years.  You heard from Elia, one of them, last week in the Stroller Hikes newsletter ( http://hosted.verticalresponse.com/819415/1e07130f3f/1484005023/4f570ae7d9/ ) and hopefully see plenty of evidence of their other labors in August.
I asked for some feedback this week at our intern meeting, and they were celebrating!  From finally loading a Word Press theme to computing "in the cloud" to getting published and finishing a Word Press project, they were abuzz with positive energy.  Often, I wish I could bottle such youthful enthusiasm, but it doesn't just exist with young people.  In the Stroller Hikes survey, I found plenty of positive feedback, so our Stroller Hikes cup is definitely (at least) half full!
Some gems from our survey:
100% of survey participants have recommended or plan to recommend Stroller Hikes to another person.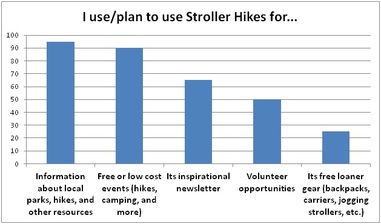 We also asked what days and times work best.  Answers ranged from early morning to evening, every day of the week, with the most popular start times being 10 AM and 3 PM or later Monday-Friday, with a runner-up being 9 AM – noon and 2 PM Tuesday to Thursday, and weekend mornings.   You can see the color-coded analysis at top.
Some raves:
"I have enjoyed the few hikes I've been able to attend. I also frequently use your hikes as a guide for where to take my family on weekends. Thanks!"
"I love Stroller Hikes.
The Stroller Hikes website is my go-to resource for South Bay park information–I can pick the park that fits our needs for that day.  I love the idea of learning about the area parks with experienced parents." 
"It provides us with the fuel to get outside on a regular basis.
It pushes me to get out of my comfort zone in a fairly easy and relaxed way.
It provides opportunities to introduce my children to outdoor activities that feel uncomfortable to me.
It is a wonderful social support group."
"My toddler enjoys spending time with the other children and tends to enjoy being in his stroller more if he sees other children his age sitting in their strollers as their parents hike.  I'm looking forward to my next hike!"
"I read the weekly newsletter religiously and never fail to be inspired. I'd love to attend more events if we could fit them around our nap/school schedules."
"My sons enjoy playing and interacting with the other children on the hikes and during the events.  The hikes are very doable and the leaders make sure that nobody is left behind."
"I've seen some places that I'd never heard of, and wouldn't have known that they existed, during the hikes.  I've lived in the Bay Area for almost all of my life, so it's nice to know that these places are here and easy to visit."
"Kudos to Debbie and to the other hike leaders for making it possible for new (and experienced) moms to get out and get some exercise!"
And some constructive criticism:
"Advertise Stroller Hikes more!"
"I know several women who prefer to attend Tiny Treks, a for-fee hike.  Just wondering about what makes it more attractive and if those are things SH even wants to emulate … regular social adult group (due to financial commitment to be there)? [Maybe this is an] opportunity to take a ""break"" because activities are fully directed by hike leader/teacher?" 
Note from Debbie: Our survey showed that absence of a consistent craft or snack was not a reason folks didn't attend hikes, but we certainly see the merits of including these things, while we also see the merits of providing unstructured play opportunities.  We welcome volunteers who want to lead social/craft opportunities that may or may not be associated with hikes, and have been discussing with Frog Hollow Farm (a CSA in the East Bay) about integrating their fruits with some of our events.  See our request for party planners at left, which is related to this.
We also got a bunch of feedback about what limits families from attending more Stroller Hikes events.  While 15% stated they already attended as many events as they wanted, top reasons for not attending more included events being too far from home, not working with family schedules, or families just being too busy.  A few folks wanted more dog-friendly options, as well.  A quotation from one of our participants:
"I wish I attended more hikes.  We always enjoy ourselves. Maybe I should volunteer to lead a "hike" but feel intimidated since I've only lived in the Bay Area now for 2 years."
Three new hike leaders have emerged, including Rebecca, who only recently moved here.  Rebecca will be leading Megan's fast-paced Stroller Hikes while Megan is taking a break from leadership as she welcomes her second child into the world.  Amene is talking about leading a hike on Fridays in Woodside (Wunderlich Park) and Melanie is planning leading one to two hikes each week in Santa Cruz.  If you'd like to lead one or more hikes per month, become a substitute hike leader, or have some great ideas for other Stroller Hikes offerings or support, please let us know at admin@strollerhikes.com.
Thanks for all of you who participated in our survey.  We'll use what we've learned as we consider changes to Stroller Hikes and solicit for grants.
-Debbie (President and Founder)