As an adult in a hyper-packaged, hyper-processed time, I lament often about how little young people learn about life skills such as cooking, cleaning, car and home maintenance, and more.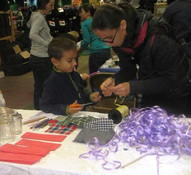 Young people are busy busy busy with athletics, social groups, and homework, but in my opinion, it's smart to tack one more thing onto the list: chores.  Growing up, chores included tending the garden, 
doing the laundry, washing dishes, painting the house, cleaning the car, cleaning my bedroom, making my bed, and cooking meals, often all in one week.  We've started our kids off early by teaching them to clean up their toys and making Monday into Max's Monday, when he is responsible for preparing and serving dinner (we'll start Holly in the next year or so).  Add to that irregular tending to the garden, vacuuming, and cleaning the bathroom counters, and we're off to a healthy start.
The holiday season marks the beginning of a time when chores also serve a new purpose – to remind us that we need not pay exorbitant amounts of money for great gifts, and that clean, gently used toys and clothes are a great gift for someone in need.
Yesterday's 3rd Annual Stroller Hikes Crafting Party was very well attended, at Sports Basement in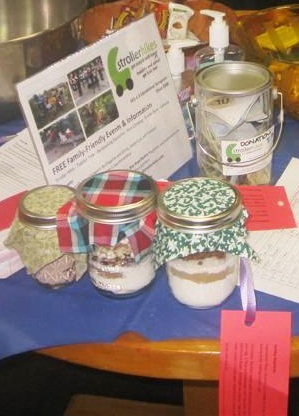 Sunnyvale.  Well over 130 cookie and cocoa mixes were assembled, kids had fun, and Jim did a paramount job of inspiring young and old to pitch in and help clean up all of our fallen flour and marshmallows!  It was grand watching some new cooks and some old ones measure carefully or scoop with abandon, check off check boxes, curl ribbons, and liberally taste all the while.  We had M & Ms, chocolate and butterscotch chips, and cranberries – plus a generous spread of snacks provided by Sports Basement.  If kids didn't know they liked cooking before coming, by the end, they were having fun, particularly with cheek-fulls of marshmallows!  I was also surprised to find the kids loving our aliquots of salt, baking powder, baking soda, and cinnamon, which I had prepared ahead of time in tiny eppendorf and falcon tubes  — I told pleased parents that they would be seeing them again in ten years, when the kids made it to advanced science classes in high school or college.
Max and Holly are excited to give their hot cocoa mixes to their 
teachers, and I'm thrilled that they can give a modestly priced but sentimentality rich, homemade gift, rather than have to dig deep in my pockets to buy a gift to say thanks to their numerous teachers (22 teachers in all).  We are thrilled to have a couple extra to keep for themselves – as tasters up until our event, they developed quite a knack for a perfect cup of chocolate, trimmed with peppermint and plain marshmallows, or several dashes of cinnamon.  If you are interested in making the mixes for yourself, but could not attend, I'm happy to share the directions for each of the mixes — e-mail admin@strollerhikes.com.
My kids are also starting to prep for the impending influx of material goods later this month.  We shopped Toys R Us for gifts for needy kids, for Giving Tree, which helped fuel the questions: "Can I have that?  How many days until Christmas?  Can I see Santa before Christmas?"  We brought stacks of games and some infant clothes to the Cupertino Community Center and the YMCA, and donated cans to a food drive at Max's school.  Now we're on to cleaning up used toys that we can drop off at the Sunnyvale Community Center, and given to more needy people.  When we talk about how some kids won't be able to receive presents, because Santa doesn't know where they live (they are homeless), Max gets very generous, wanting to design and pass on Lego Creations, or give up other toys.  Holly, always watchful of her brother, follows suit, with arms full of stuffed animals or books.  We won't necessarily part with all they provide, but it's endearing to see them so willing to help other people.  Fast forward ten years, and I hope we can tack one more chore onto their lists: selfless support or giving to others, where they can help build a house with Habitat for Humanity, build a footbridge or maintain a trail in a local open space, prepare food at the soup kitchen, clean up trash at the creek, or more.
Have a happy, healthy holiday!
-Debbie (Founder and President), Max (6), Holly (2), and Andrew